Everything You Need to Know About Pumpkin Seed Oil
From jack-o-lanterns to pumpkin pie, pumpkin is an iconic favorite, beloved for its flavor, color, and scent. However, the benefits of pumpkin extend far beyond these fall traditions. A lesser-known beauty secret, pumpkin seed oil, comes from pumpkin seeds and has many perks for the skin and hair. Keep reading to find out why you should use it.
What Is Pumpkin Seed Oil?
Pumpkin seed oil is a type of natural carrier oil that is extracted by cold-pressing pumpkin seeds. Pumpkin belongs to the melon family (Cucurbitaceae) and is actually a fruit, not a vegetable. While pumpkin seed oil may seem like a novel product, it has actually been used for centuries dating back to the Austro-Hungarian Empire, where it was (and still is) widely used in culinary applications. Today you'll also find it in skincare and hair care products. It has a distinct nutty aroma and is usually light to dark green in color. Cliganic Pumpkin Seed Oil is refined, so it actually has a rich golden color and luxurious texture.
Benefits of Pumpkin Seed Oil
Pumpkin seed oil contains many beneficial properties that can help to improve the health of the skin and hair. It's high in vitamin A, which helps to keep the skin soft and supple, as well as reduce the appearance of fine lines and wrinkles. It's also rich in omega-3 fatty acids, which are nourishing and can help improve skin, scalp, and hair health. Additionally, it contains Vitamin C, which is a powerful antioxidant that can help to protect the skin from damage caused by free radicals. Pumpkin oil is also lower on the comedogenic scale, so it's unlikely to clog your pores. 
Below are just a few of the many benefits of pumpkin oil:
Readily absorbs into skin

Conditions skin and scalp

Offers a youthful glow

Support's skin's natural resilience

Fights free radicals

Adds softness, shine, and luster to hair

Soothes irritation and dryness

Balancing for acne-prone skin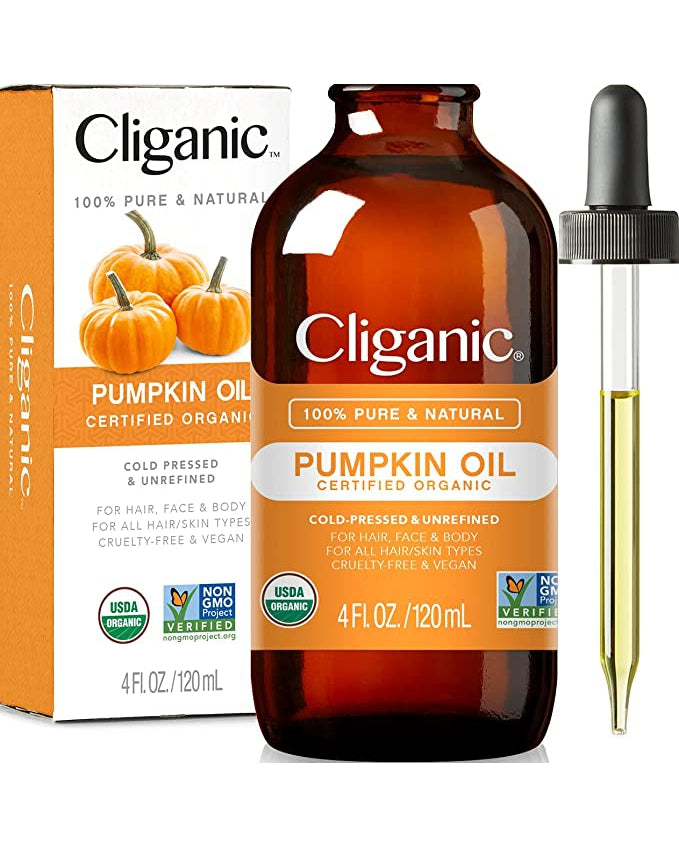 How to Use Pumpkin Seed Oil
There are a number of ways pumpkin oil can be used to benefit the hair and skin. An added perk, you don't have to dilute — it can be applied directly!
For the hair: To use it as a hair conditioner, simply apply 1 teaspoon of pumpkin oil to damp hair and massage it in from roots to tips. Leave it on for a few minutes before rinsing out with warm water. To use it as a hair mask, mix 1 teaspoon of pumpkin oil and 1 teaspoon of jojoba oil and massage it into dry hair and cover with a shower cap. Leave it on for 30 minutes before shampooing and conditioning as usual. You can also add a few drops of pumpkin oil to your shampoo or conditioner for added benefits.
For the face: To use it as a face serum, mix together 2 drops of pumpkin oil and 2 drops of rosehip oil. Apply this mixture to clean, dry skin and massage gently. 
For the body: To use it as a moisturizer, apply 1 teaspoon directly to clean, dry skin or add ½ a teaspoon to your favorite lotion or body butter.
Closing Thoughts
Pumpkin oil is an incredibly versatile and nourishing carrier oil that's packed full of vitamins, minerals, and antioxidants that can help to improve the health and appearance of both the skin and hair. To get the most out of pumpkin oil, be sure to use it regularly as part of your skincare or haircare routine, and consider mixing it with other carrier oils such as argan or jojoba oil and essential oils for even more benefits. Curious about other carrier oils? Take a look at this article: All About Marula Oil: Benefits, Uses, and More.
Leave a comment