December 30, 2021
Carrier Oils
Top 5 Reasons to Love Using Tamanu Oil
Tamanu Oil is truly one of the most interesting and powerful carrier oils we can use on our skin. It's properties are diverse and well documented, and it's emerald green color and lovely celery-like aroma makes you feel healthier just by using it!
But our favorite way to use Tamanu Carrier Oil is to improve the appearance and overall health of our skin and hair. It's loaded with a complex array of nutrients and essential fatty acids that our skin instantly drinks up.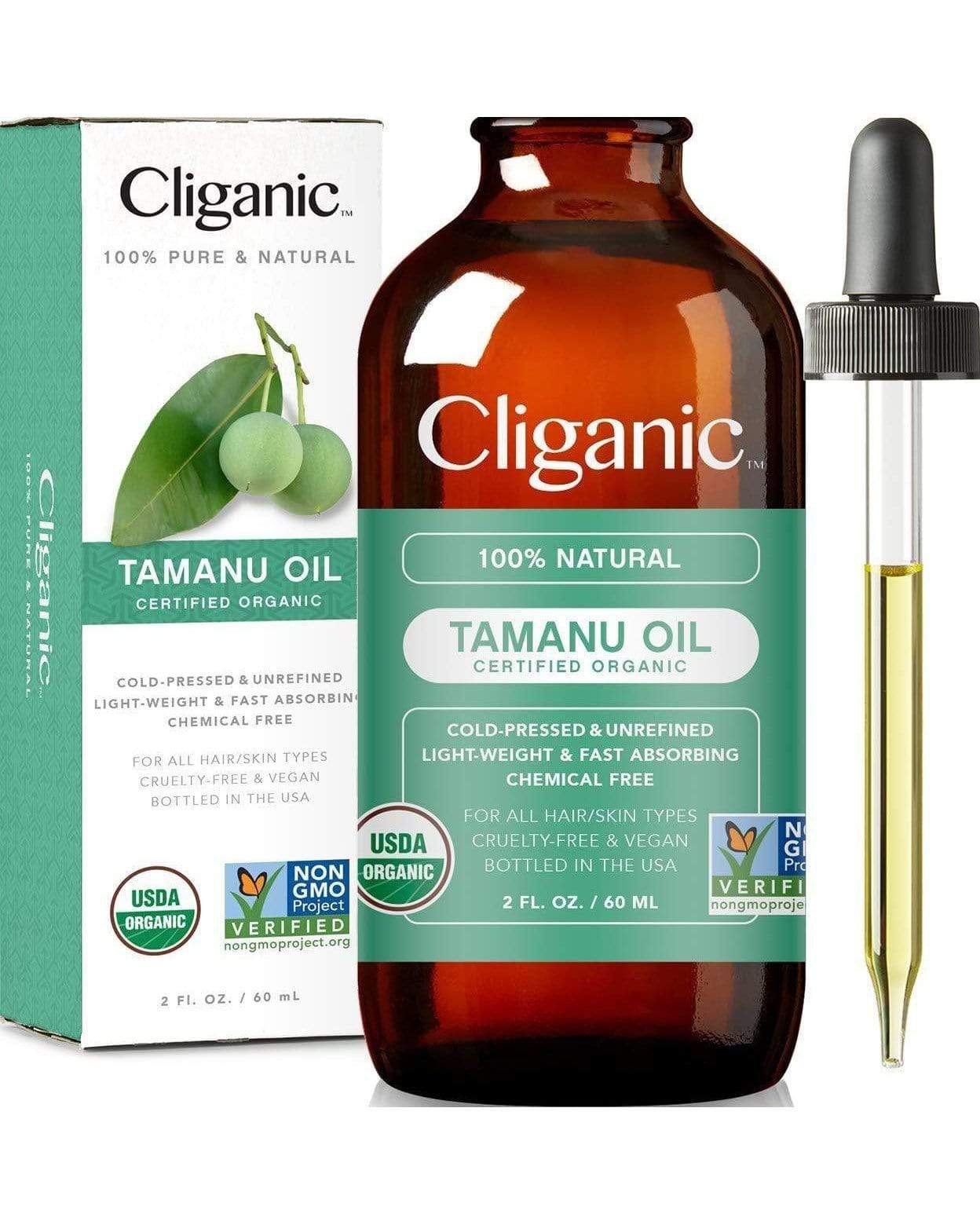 Tamanu Oil (Caulophyllum inophyllum) is native the Pacific Basin, and the tree grows on islands like Tahiti, Fiji, Samoa, Madagascar and even Hawaii. The native indigenous communities of these areas have a long ancient history of using Tamanu Oil to soothe and alleviate all sorts of ailments.
The Tahitians considered the Tamanu tree sacred, and used all its parts, lincluding its leaves, wood, bark and resin for ritual, ceremony and healing.
Tamanu oil has been studied extensively. In the early 20th century, colonizers and missionaries who spent time in the Pacific Islands, observed how remarkable the oil was when used to heal wounds, strengthen immunity and clear away infection. After their discovery, they brought the oil back to France and continued to study its medicinal properties. Today Tamanu oil continues to be studied and used in many clinical settings around the world.
Where does the oil come from?
The Tamanu tree can grow up to 100 feet, and it has very long spreading branches with dark rough bark.  The tree blooms all year round and produces fruit the size and shape of apricots.  The skin of the fruit is relatively thick and the flesh is apple-like.  The flesh covers the nut, which looks like an almond, that you have to crack open to reveal the inner seed, from which you can press out the oil.
But what's unique about the Tamanu nut is that when it's freshly harvested, the inside kernel is dry and odorless.  So it's important that the nut is dried for a few months, during which it browns and starts to ooze a sweet smelling oil.
These sun-cured nuts are then pressed to get out the oil, which is thick, deep green and aromatic. Although the oil is thick and gooey, when we apply it to our skin, it absorbs very quickly and doesn't leave a greasy finish on the skin
What makes Organic Tamanu Oil so special?
When applied topically, it not only has the ability to promote tissue repair and resiliency, but It's been reported that Tamanu also contains powerful components that can ward off pathogens, and improve the skin's immunity.
That's often why we see Organic Tamanu Oil as an ingredient in products used to promote clear blemish-free skin, as well as a skincare ingredient to help the skin battle infection.
An additional amazing property is how it can also soothe away pain and discomfort, and ease swelling and aches.
Since it's been researched so extensively, it has a long list of medicinal uses, and it's often considered a go-to ingredient for herbalists and natural healers.
But our favorite way to use the oil is on our skin and on our hair to soften, nourish and increase  shine and vibrancy.
Here are a few of the Essential Fatty Acids that we can find in Organic Tamanu Oil,  and how they benefit the skin:
 L

inoleic Acids (Omega-6) are known to:
Moisturize hair and promote its health 

Facilitate wound healing

Reduce swelling and inflammation

Soothe away blemishes and reduce recurrences on acne prone skin.

Moisturizing

Softening
Oleic Acids (Omega-9) are known to:
Keeps the skin soft, supple and glowing

Supports healthy hair

Promotes a youthful glow

Fortifies our wellness

Eases stiffness
 PALMITIC ACID is known to:
Softening

Offer a light feel to skin and hair
 STEARIC ACID is known to:
Cleansing and clarifying

Self stabilizing

Protects and nourishes the skin and hair

Softening
Now that you know a little more about what Organic Tamanu Oil is and what it is made up of, here are the
Top 5 reasons why you should be using it on your skin
Supports Your Skin's Resilience
Think of Organic Tamanu Oil as a kind of shield for the skin that protects it and keeps it strong. Since it absorbs so quickly and deeply, it's amazing molecules go straight to work supporting our skin's role in protecting us from environmental stressors.
Use it when your skin feels damaged and sensitive, and notice how quickly your skin feels healthier.
Encourages Your Skin to Rejuvenate and Restore itself
Our skin regenerates every 28-32 days, sloughing off dead dry cells and replacing itself with new ones. And when we apply Organic Tamanu Oil to our skin we are helping to promote this naturally occurring self-rejuvenation our skin inherently does. It's as if Organic Tamanu Oil provides the necessary nutrients and components to assist the skin in the continual process of rebuilding itself. 
Try gently massaging Organic Tamanu oil on skin that feels dull, sluggish and lacks vibrancy. 
Offers Your Skin a Youthful Glow
The native people from the Pacific Islands attribute their smooth glowing skin to the daily use of Organic Tamanu oil. The oils rich presence of unique essential fatty acids, helps to replenish the skin with the necessary components it needs to feel supple, soft and vibrant.
Promotes stronger, shinier hair
Organic Tamanu Oil for the hair is a secret beauty ritual the women from Tahiti and Fiji have known for centuries. They found that it strengthened their long locks and provided needed nourishment and protection to the scalp. Plus it made the hair look smoother and shinier.
Promotes clear and healthy skin
One of the really special features of Organic Tamanu Oil  for skin is that it has this remarkable ability to fight off pathogens – and this means for those of us with acne prone skin, it can be a great addition to our skincare regime in between breakouts.
Try applying it to your trouble spots to help prevent potential breakouts
Although Organic Tamanu has so many powerful healing properties, we always recommend combining it with Organic Jojoba Oil  or Organic Argan Oil before applying it to the skin in order to make it feel less tacky, and reduce its unusual vegetable-like aroma. A good ratio would be 1:1, meaning for every 1 TBSP of Organic Jojoba Oil you would mix it with 1 TBSP of Organic Tamanu Oil.
Let us know how you are enjoying using Organic Tamanu OIl!
Leave a comment