How to Use Jojoba Oil on Hair
Do you want to keep your hair looking healthy, shiny, and vibrant? Jojoba oil (pronounced ho-HO-ba), is a natural, plant-based oil that offers numerous benefits for your hair. It's made by cold-pressing the seeds of the jojoba shrub (Simmondsia chinensis), which is native to the Sonoran Desert in the Southwestern United States and Northwestern Mexico. In this article, we will discuss the many benefits of jojoba oil on hair, how to choose the right jojoba oil for your needs, and different ways you can use it to maximize its effectiveness.
Benefits of Jojoba Oil on Hair
Jojoba oil has a chemical composition that is very similar to our skin's natural oil. This means that when we massage jojoba oil into our scalp and hair, our follicles are able to easily recognize jojoba oil's unique molecules and immediately absorb it. Below are some of the key benefits of using jojoba oil on hair.
Adds shine and luster

Promotes soft hair

Supports hair and scalp health

Prevents split ends and breakage

Contains vitamins E and B

Relieves itchiness and dryness

Prevents hair from looking greasy or oily

Virtually odorless

Fights frizz and flyaways

Lightweight smooth and luxurious consistency
Beyond hair care, jojoba oil can also be used on the skin as a natural moisturizer and works as a great carrier oil for essential oils.
How to Choose the Right Jojoba Oil
Not all jojoba oils are created equal, which is why it's important to do your research before making a purchase. 
When choosing a jojoba oil, it is important to select one that is cold-pressed (not heated), so you don't lose any of the beneficial nutrients. You should also opt for products packaged in dark amber bottles as this helps protect against light damage, which can diminish its effectiveness over time. 
Be sure to check the ingredients label to ensure that the jojoba oil you're buying is 100% pure, with no added fragrances or preservatives. Additionally, look for organic products since they are free from any chemicals or additives which could potentially damage your hair over time. Lastly, you should look at reviews and ratings to see how effective the product is and if others have found it beneficial.
Cliganic Jojoba Oil covers all of these bases — it's cold-pressed, organic, 100% pure, and comes in an amber bottle. Plus, it has some great reviews. Here's one from Cliganic customer, Loretta F.:
"If you're looking to buy a Certified USDA Organic and NON-GMO cold-pressed oil that is lightweight and absorbs fast, Cliganic Jojoba Oil is good for you. You can use it on both your face and hair and mix it with other oils for your favorite blends."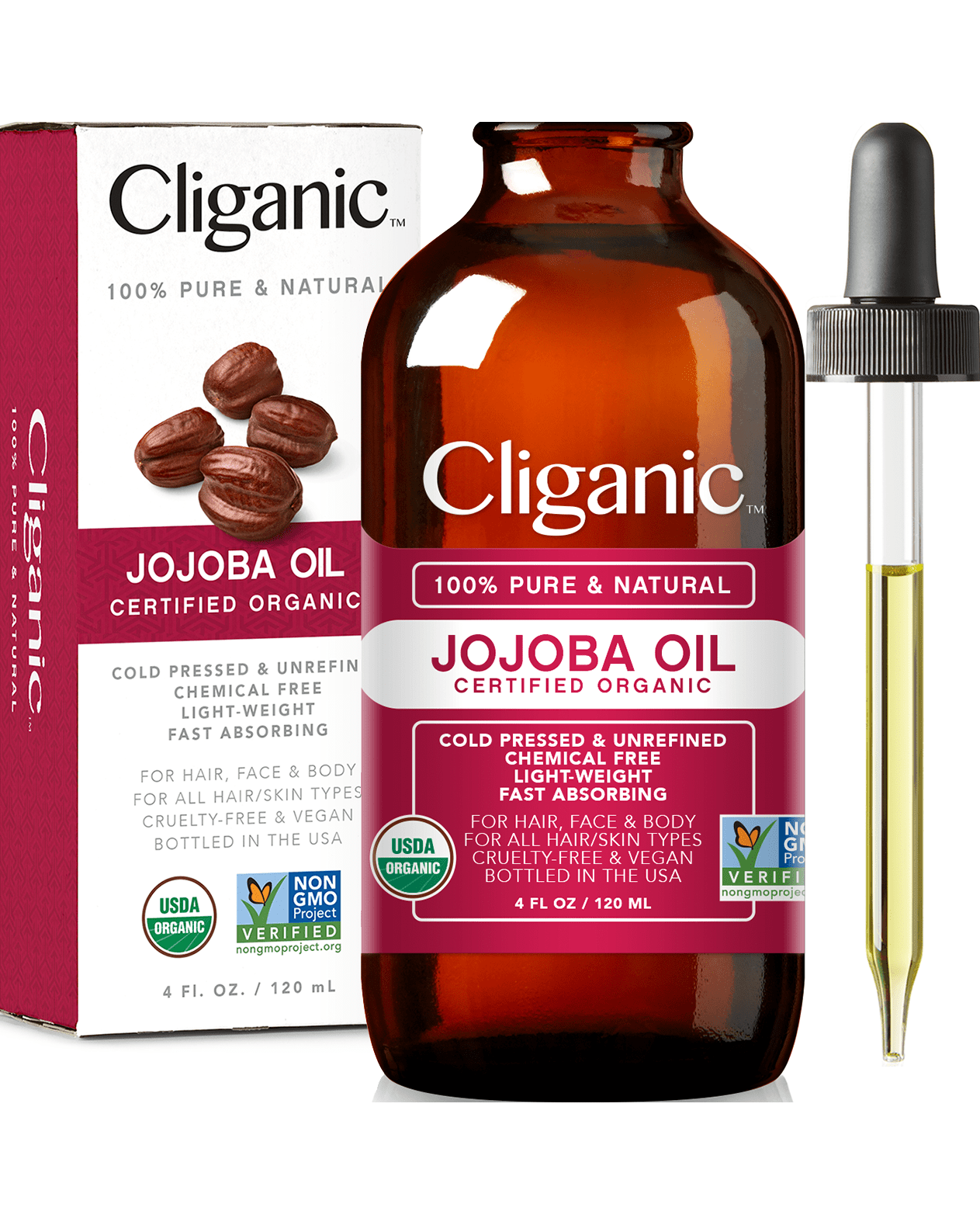 By taking these steps when selecting jojoba oil, you can be rest assured knowing that you have chosen a quality product that will deliver great results when applied to your hair.
Ways to Use Jojoba Oil on Hair
There are a few ways you can use jojoba oil on hair. However, before using it you should always do a patch test before applying it directly onto your scalp to avoid any allergies or reactions caused by the ingredients in the product. 
Here are some of the most popular ways to use jojoba oil on hair:
Warm 3 teaspoons of jojoba oil in the microwave for 10 seconds using a microwave-safe bowl. Add in 4 drops of

palmarosa oil

and mix well. Massage into hair and scalp and wrap in a towel or shower cap. Let it sit for 20 minutes. Wash and condition normally.

Add 3 to 4 drops of jojoba oil to your favorite shampoo or conditioner for an extra boost of shine and nourishment. 

Rub ½ teaspoon of jojoba oil into the ends of your hair in order to reduce breakage.

Use 1 to 2 drops of jojoba oil to tame frizz and fly aways.
Final Thoughts
Jojoba oil has a multitude of benefits that can help improve the health and look of your hair. From added shine to fewer split ends, this natural product is an excellent choice when it comes to restoring your hair's luster. To learn more about how you can use jojoba oil beyond hair care, take a look at this article: Is Jojoba Oil Good for Your Lips?
Leave a comment