All About Moringa Oil: Benefits and Uses
You've probably heard of jojoba oil and argan oil, but have you ever heard of moringa oil? An ancient ayurvedic go-to, moringa oil may just be your new beauty secret. In this article, we will take a closer look at what moringa oil is, the benefits it can offer, and how to use it. Let's dive in!
What is Moringa Oil?
Moringa oil is a carrier oil that is cold-pressed from the kernels of the fruit produced by the moringa oleifera tree. The moringa tree is native to India and has been used for centuries in traditional Ayurvedic medicine and is often referred to as "the miracle tree" for its healing properties. Today you'll find moringa oil in a variety of places — from culinary preparations to skincare products.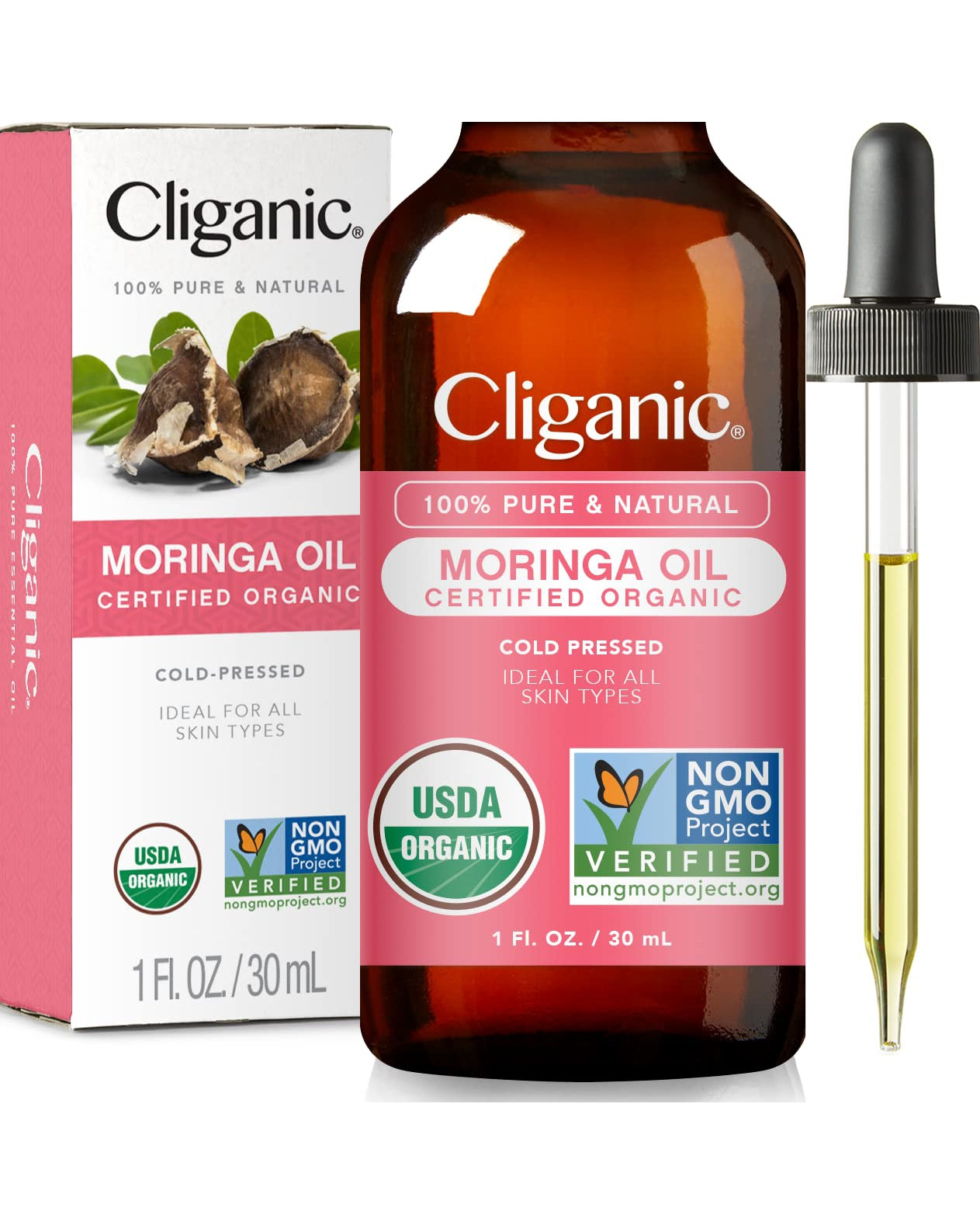 Benefits of Moringa Oil
Moringa oil has a wide range of potential health benefits and is rich in antioxidants and fatty acids, making it an excellent choice for those looking to support their skin, hair, and nail health. One of the most powerful things about moringa oil is that it contains oleic acid, which protects the skin from the elements and helps retain moisture. Some of the primary benefits of using moringa oil include: 
Deeply hydrating and protecting for the skin

Reduces the appearance of fine lines and wrinkles

Moisturizes the scalp without weighing hair down

Soothes irritated or inflamed skin

Softens skin

Aids in wound healing

Soothes dry or cracked cuticles

Fights off free radicals
How to use Moringa Oil
Moringa oil can be used in various ways, depending on what you're looking for. Here are some ways you can incorporate it into your routine:
For the skin:
Add 4 drops of moringa oil to your regular moisturizer or face cream. You can also massage it directly into your skin as an all-over body moisturizer. Moringa oil is non-greasy and won't clog your pores. Use it in combination with essential oils for even more skin benefits.
For the hair:
If you want to use moringa oil for its benefits to hair, then you can add 3 drops of it to your shampoo or conditioner. You can also massage ½ teaspoon into your scalp for a deep conditioning treatment. 
For the nails:
Soothe cracked cuticles and nourish nails by massaging 3 drops of moringa oil on your nail beds or adding it to your favorite hand lotion daily.
Is Moringa Oil Safe?
Moringa oil is generally considered safe for most people to use. However, to avoid any adverse reactions, it is always best to do a patch test before using any new product on your skin. To do a patch test, apply a small amount of the product to a small area of your skin and wait 24 hours to see if there are any signs of irritation. If you experience any redness, swelling, or itching, discontinue use immediately and wash the area with soap and water. Pregnant women or those who are breastfeeding should consult their doctor before use. 
Final Thoughts

An all-around beneficial carrier oil, moringa oil works wonders on the skin, hair, scalp, and cuticles. With high amounts of fatty acids and antioxidants, it nourishes and protects the skin naturally. To learn other ways you can use carrier oils in your daily life, take a look at this recipe: DIY Hair Oil Featuring Powerful Carrier Oils.
Leave a comment